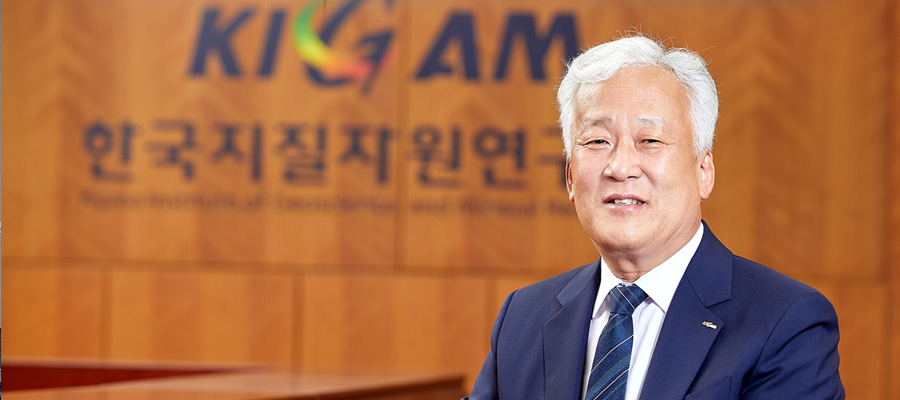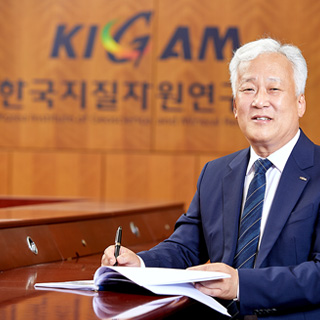 Thank you for visiting the KIGAM Website!
As Korea's unique government-funded Geoscience research organization, Korea Institute of Geoscience and Mineral Resources (KIGAM) has contributed to resolving public safety issues as well as to national developments since our foundation as the Geological Survey of Korea in 1918.
Today, we live in a time where the roles of science and technology are becoming more important than at any other age in human history. As prominent Geoscience R&D organization, we respond to rising national issues such as securing rare metals that are widely used in electric vehicle batteries and are a critical part of the '2050 Carbon Neutrality' agenda, contributing to sustainable national economic growth for the future.
As the K-Geoscience frontiers, KIGAM develops rare metal exploration technology incorporating artificial intelligence (AI), and is a leader in large-capacity carbon dioxide storage technology, marine sedimentation basin storage, and utilization technology to respond to current global issues such as climate changes.
As a government-funded research institute, we are committed to fulfilling our social responsibilities. Moreover, we will take the lead in specialized fields such as Earthquakes and other Geological Disasters where the private sector alone is unable to solve social problems, and we will expand our roles in public safety matters related to Geoscience.
KIGAM will strive for a better tomorrow as the 'K-GEOSCIENCE LEADER' and will be reborn as a world-class Geoscience research institute with a sprit of endless pursuit of challenges and innovation.
Thank you very much.
Dr. Pyeong-Koo Lee
President
Korea Institute of Geoscience
and Mineral Resources